Songlists and Codes / FAQ
FAQs - DDRMAX2: Dance Dance Revolution 7th Mix
Unlock Codes
Machine owners/operators have the ability to unlock new songs for the game through the operator menu. Here are the instructions you need to follow to unlock an arcade machine. Please note that if you do not have access to the panel behind the coin door (ie - if you don't own the machine nor are you responsible for it), you cannot enter the unlock codes. Thanks go to Brian Ho of IndyDDR.com for providing the images of his own machine.
To enter the operator menu, you must hit the Test button. The pictures above show the two styles the operator panel can come in - the lefthand one in original Japanese machines, and the righthand one in Korean/Asian/US machines. In the picture on the left, the Test button is the top one in the column of three buttons (the other two, in order, are Service and Degauss). In the picture on the right, the Test button is the red one in the upper-righthand corner, and the white button next to it is the Service button.
Once you hit the Test button, you'll see a menu as follows: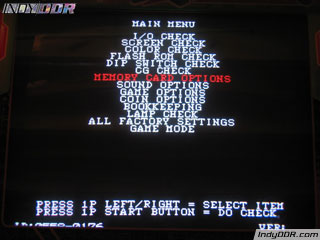 Use the

and

buttons to select GAME OPTIONS (*not* MEMORY CARD OPTIONS as is highlighted in the picture), and then, while holding the 1P

and the Service Button, hit the 1P

button to enter the SECRET menu.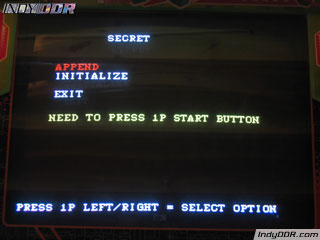 From here, hit the 1P

button to select APPEND.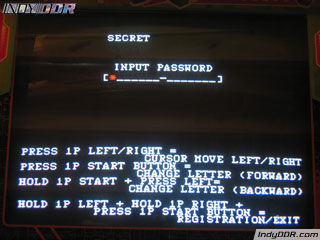 You can now type in the unlock codes. Use

and

to select the spaces, and

to change the letters in each space. When you've entered in the password, hold

and

and then push

to confirm the password.
The unlock codes for this game are as follows:
Unlocks 1-5: DGMBJCU - YCDPMAS
Unlocks 1-10: MCQEMRG - KHVOBWG
Unlocks 1-15: BARTYY_ - PDSHTBH (the seventh character is a space)
Unlocks 1-20: USGCFHJ - JLBBYXK
Unlocks 1-25: IJURVIT - WXFCOJW
Unlocks 1-31 (All): JCYWEKJ - DZJNBGF
Credit given to seishinbyou and yasu from AaronInJapan.com for finding and sharing the code.
Unlockable Items
The unlock system for DDRMAX2 is rather peculiar. There are a total of 31 items to unlock, and the point value for each is variable. The default value is 750 points, but if unlocks take a large or small amount of time, that value will be adjusted downward or upward when the next item comes up. For example, if you were to unlock a song, and then instantaneously earn enough points to earn another unlock, the next unlock will likely require 1500 points.
Additionally, the items do not necessarily unlock in order. If an item is unlocked within a short time, then the next item is skipped. Once the list gets down to 30, it will cycle back to the top and unlocks will resume with the next item. Item 31 will always be last.
Some items include multiple songs. If you unlock one item, you'll get all the numbered items.
ONI COURSE - TEMPO CHANGER
La Senorita - CAPTAIN. T
ONI COURSE - NAOKI feat. PAULA TERRY
.59 - dj TAKA
DXY! - TaQ
Abyss - dj TAKA
ECSTASY - d-complex
ONI COURSE - SOUL 6
Sana Molette Ne Ente - Togo Project feat. Sana
ONI COURSE - COOL 7
ONI COURSE - Be For U
SEXY PLANET - Crystal Aliens
WILD RUSH - FACTOR-X
ONI COURSE - POP 8
Holic - TaQ
TRIP MACHINE CLIMAX - DE-SIRE
SUPER STAR - DJ.Rich feat. Tail Bros.
ONI COURSE - Fine Choice
ONI COURSE - HAPPY HARDCORE
MY SUMMER LOVE - MITSU-O! with GEILA
LUV TO ME (AMD MIX) - DJ KAZU feat. Tiger YAMATO
Silent Hill - THOMAS HOWARD
HIGHER - NM feat. SUNNY
ONI COURSE - LOVE RevenG
ONI COURSE - From SOLO
ONI COURSE - MIDNIGHT BLUE
Spin the Disc - good-cool
Burning Heat! (3 Option Mix) - Mr. T. feat. Motoaki F.
ONI COURSE - From IIDX
i feel... - AKIRA YAMAOKA
ONI COURSE - NAOKI PLATINUM
ONI COURSE - Demon Road
MAXX UNLIMITED - Z
Kakumei - dj TAKA with NAOKI
ONI COURSE - Demon Road 2
Brand new options and play modes
In addition to the Light, Standard, and Heavy modes that were introduced in DDR MAX, DDR MAX2 has an additional mode called Oni Mode. Unlike the other modes, Oni mode must be chosen by both players. If either player chooses Oni mode, both players will be forced to play it. Oni mode is similar to the nonstop courses seen in previous mixes, but on crack. Options are disabled. You begin with four lives. In Oni mode, if you get a GOOD or worse on any step, one life will be taken away from you. The game ends if you lose all four lives, but you may recover life between stages. If you are playing a two player game and you lose all four lives, your game is over, even if your partner is still alive. Results for each player come out only at the end of the game. There are several result attributes:
Degree of achievement: This is basically your percentage of perfect steps.
The number of songs that were cleared
The time that you were able to continue playing.
You will receive a password for Internet Ranking.

For the first time, you can include freeze arrows in your edits (assuming you have DDRMAX for the Playstation at home).

Dark mode has also been newly added, in which mode the arrows at the top of the screen are gone.

Difficulties

The groove radar from DDR MAX returns in DDR MAX2, to be joined also by the more familiar foot ranking system of yore.

Song selection works similar to DDR MAX. All songs are available, and you can select among four different song orders -- composite difficulty (default), alphabetical, BPM, and Player's Best (the 30 most often played songs). To change the order, hold the

and

buttons simultaneously at the song selection screen.
Extra Stage
DDRMAX introduced a new feature to the DDR series called "Extra Stage". Essentially, Extra Stage rewards very skilled players with an extra challenge round after their last song. Each DDR version featuring Extra Stage has different requirements and features - here's how it works in DDRMAX2:
To unlock Extra Stage, clear your last song on Heavy with a grade of AA or better.
Extra Stage in DDRMAX2 is MAXX UNLIMITED Heavy [x1.5, Dark, Reverse, No Regain]. If you miss a step, your dance gauge will drop and you will not be able to recover the lost portion.
To unlock One More Extra Stage, clear Extra Stage with a grade of AA or better.
One More Extra Stage in DDRMAX2 is Kakumei Challenge [x3, Dark, Reverse, Sudden Death]. If you get a Good or break a freeze, the song immediately ends.
Clear at least Extra Stage and you will earn a special credits ending.
Codes:
All codes can also be chosen by holding the

button immediately after choosing a song.


| | |
| --- | --- |
| Boost: | |
| Freeze off: | |
| Scroll reverse: | |
| Cancel all: | |
| Mirror: | |
| Right: | |
| Left: | |
| Shuffle: | |
| Appearance (Hidden/Sudden/Stealth): | |
| Other (Little/Flat): | |
| Edit screen: | ( to go back) |
Oni Courses
Three Oni courses are available on a freshly-installed machine, and an additional fifteen are unlocked according to the unlock procedure listed above. The three default Oni courses are also the three which provide Internet Ranking scores, and the three which the game will track on the high score table.
NAOKI STANDARD

BRILLIANT 2U
DYNAMITE RAVE
CELEBRATE NITE
B4U
BURNIN' THE FLOOR
D2R

NEARLY=130

LONG TRAIN RUNNIN'
SO FABULOUS SO FIERCE (FREAK OUT)
LOOK AT US (Daddy DJ Remix)
HIGHER (next morning mix)
A MINUTE (Extended Mix)

PARANOiA BROTHERS

PARANOiA
PARANOiA MAX
PARANOIA (KCET CLEAN MIX)
PARANOIVA EVOLUITON
PARANOIA Rebirth

TEMPO CHANGER

era (nostalmix)
INSERTiON
SOMEWHERE OVER THE RAINBOW
LET'S GROOVE
MORE THAN I NEEDED TO KNOW

NAOKI feat. PAULA TERRY

STILL IN MY HEART (MOMO MIX)
CAN'T STOP FALLIN' IN LOVE
BROKEN MY HEART
LOVE AGAIN TONIGHT (For Melissa MIX)
DESTINY

SOUL 6

SHARE MY LOVE
DO IT RIGHT
Secret Rendez-vous
LET'S GROOVE
Hysteria 2001
GROOVE

COOL 7

JUSTIFY MY LOVE
LOOK TO THE SKY
GROOVE 2001
Holic
ON THE JAZZ
rain of sorrow
DRIFTING AWAY

Be For U

true... ~trance sunrise mix~
DIVE (more deep & deeper style)
Firefly
ever snow
BRE∀K DOWN
CANDY♥

POP 8

MORE THAN I NEEDED TO KNOW
SILENT HILL (3rd christmas mix)
CANDY★
BABY LOVE ME
HIGHER (next morning mix)
SOBAKASU FRECKLES
DO YOU REMEMBER ME
MY SWEET DARLIN'

Fine Choice

NORI NORI NORI
MY SUMMER LOVE (TOMMY'S SMILE MIX)
MATSURI JAPAN (FROM NONSTOP MEGAMIX)
WITCH DOCTOR (GIANTS TOONS VERSION)
THE WHISTLE SONG (Blow My Whistle Bitch)

HAPPY HARDCORE

WWW.BLONDE GIRL (MOMO MIX)
STILL IN MY HEART (MOMO MIX)
DYNAMITE RAVE (B4 ZA BEAT MIX)
WAKA LAKA
SWEET SWEET ♥ MAGIC

LOVE RevenG

MATSURI JAPAN (FROM NONSTOP MEGAMIX)
AFRONOVA (FROM NONSTOP MEGAMIX)
TSUGARU (APPLE MIX)
Orion.78 (AMeuro-MIX)
exotic ethnic

From SOLO

Let the beat hit em! (CLASSIC R&B STYLE)
SUPER STAR (FROM NONSTOP MEGAMIX)
WILD RUSH (FROM NONSTOP MEGAMIX)
Hysteria 2001
CAN'T STOP FALLIN' IN LOVE

MIDNIGHT BLUE

AM-3P (AM EAST mix)
ECSTASY (midnight blue mix)
SEXY PLANET (FROM NONSTOP MEGAMIX)
Secret Rendez-vous
INSERTiON

From IIDX

ABSOLUTE
Holic
Abyss
DXY!
Burning Heat! (3 Option Mix)

NAOKI PLATINUM

BRILLIANT 2U (K.O.G. G3 MIX)
DYNAMITE RAVE (B4 ZA BEAT MIX)
CELEBRATE NITE (EURO TRANCE STYLE)
B4U (B4 ZA BEAT MIX)
BURNIN' THE FLOOR (BLUE FIRE mix)
D2R

Demon Road

DROP OUT
D2R
WAKA LAKA
PARANOiA
TRANCE DE JANEIRO (SAMBA DE JANEIRO 2002 Epic Vocal Remix)
PARANOiA (KCET CLEAN MIX)
STAY
Healing Vision (Angelic mix)
TSUGARU
MAXX UNLIMITED

Demon Road 2

DROP OUT (FROM NONSTOP MEGAMIX)
SEXY PLANET (FROM NONSTOP MEGAMIX)
BRE∀K DOWN
TSUGARU (APPLE MIX)
Burning Heat! (3 Option Mix)
Kakumei

Legend

Beginner
Light
Standard
Heavy
Challenge